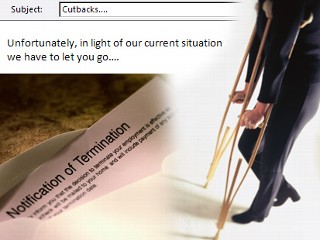 I guess it was only a matter of time. Bizarre stories of layoffs and firings are beginning to surface.
In Madison, Wis., a nurse received the layoff notice while assisting in surgery. A manager removed the nurse from the procedure to relay the news.
Hospital officials said the surgery was a minor procedure but did not provide additional details. A company spokesman said that the action did not endanger the patient but acknowledged that the manager made a mistake. According to the Wisconsin State Journal, the nurse was laid off as part of the healthcare provider's plan to remove 90 employees from its payroll.
The hospital declined to reveal the identities of the nurse and the manager, but did say that the manager was an experienced nurse who "is very upset and is extremely remorseful over this."
Granted, layoffs and firings are never easy for managers. Even in the best of times, it's not uncommon for businesses to misstep. We can understand that the recession is stressing out businesses all over the country. However, when you read about some incidents, it makes you wonder: "What were they thinking?"
ABC News has compiled a list of strange stories, including the hospital one. Read
You're Fired: From the Bizarre to Just Plain Cruel
.
Weird tales of firings are not new. Check out a post that appeared here a few years ago:
Workers terminated via email and text messages
.
Tags:
Recession
,
Termination
,
Firing
,
Communication
,
Internal Communications
,
Human Resources
,
Business
,
Media by Sistrunk